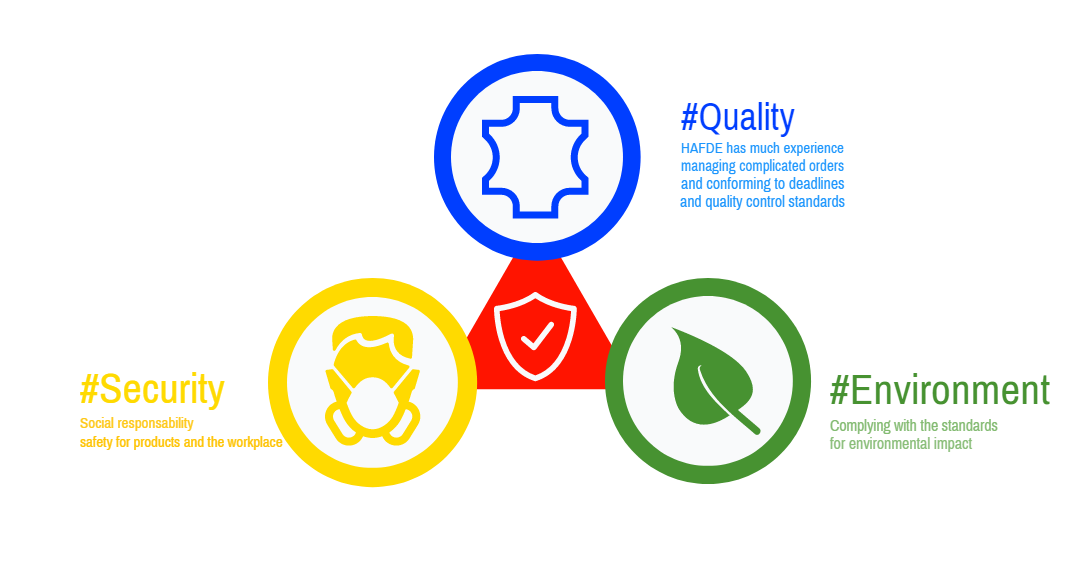 HAFDE is highly involved and firmly committed to sustainable practices to ensure the minimisation of harm to the environment and the safety and well-being of the people it works with.
HAFDE is committed to the environmental sustainability, by adapting its activities and constant research and development in the products they make. Alongside the implementation of state-of-the-art recycling facilities and a water treatment plant, HAFDE's team have carried out considerable research on vegetable and chrome-free leather production (using sheep and goat hides). HAFDE now has significant experience producing high-end vegetable leathers (using goat, sheep and cow hides) that do not compromise on quality.
HAFDE's goal is to extend its chrome free leather range to cow hides and to produce fully green leathers within the next five years, eliminating the use of all harmful chemicals (chrome and sulphides) to reduce the impact of tanning on the environment and the people producing it.
Alongside these environmental practices, HAFDE also supports greening mountains, encourages social responsibility and has a strong ethical agenda. Within the company, HAFDE promotes fair labour practices through the provision of a practical training facility for the local and regional technical schools. Moreover, it provides the workers with subsidised lunches, transportation to their neighbourhoods and helps with access to medical services. Lastly, HAFDE supports the creation of the community clinic.
HAFDE's ethical agenda expands beyond the immediate vicinity of the tannery. HAFDE provides some leather bags for disadvantaged children, access to water for surrounding communities, has planted over 100 trees to reduce emissions and has hired two people part of a "greening team" to cater to these trees and continuously enlarge and improve the green spaces for workers to enjoy.